I adapted Pete the Cat and His Four Groovy Buttons for my student who loves music, and is in Phase 2 on the CVI Range.  He is beginning to use his vision with functional activities like eating.  He is working on visual attentiveness and guided reach.  He is also working on "grabbing and pulling" with his Occupational Therapist.  His Orthopedic Impaired Specialist has helped the Vision Department in our county begin creating a "Book Library" for kids with multiple disabilities, which we have only just begun.  
Assortment of colorful, round, groovy buttons
Matte (not glossy!!) lamination sheets. I used 5 mil linked here.
Lamination machine with 5 mil or higher heat setting
Printer with lots of black ink
Paper cutter or scissors
Black binding or book binder to hold pages together
Hot glue gun and hot glue sticks
Round magnets
Black elastic cord: Try this one.
Small piece of yellow fabric (for one page)
Print the slides double-sided.
The slides I made have the words upside down so that when I printed, I wouldn't have to worry about the way it flips.  I also made the words very faint colored so that it wasn't distracting to my student when they were looking at the book.  You are welcome to make a copy of the slides and edit the book as you wish.  Adding sounds and making it into a Google slide show for them to watch might be fun.  I wanted my student to have a hard copy book to read with his family.  The images I used in the book were images I found online that I saved, removed the background using this link, then made high contrast using lessonpix.com (with which our county is registered).
Laminate the pages using matte lamination paper.
As many TVI's may know, regular lamination paper is so glossy, and with our kids with CVI, they are just looking at the glare on the lamination rather than the photo.  I did have trouble getting my lamination machine hot enough on some of the pages, and it came out a bit foggy.  Still better than the glare!  I think if you have a good functioning machine that heats 5 mil or higher, it should work well.  My co-worker let me borrow her machine for a few pages, and it made a huge difference. 
Cut the pages so there is no white border.
Bind the pages together before adding the buttons.
It's just easier. 
Add the buttons, magnets, and cords to your pages.
I made my book with the large buttons on the front page, and large buttons on the blank pages when the buttons pop off.  I also put small buttons on Pete's shirt depending on how many he had left, and small buttons on the pages with numbers (displayed like in the "Touch Math" method- see photos above). The blank black pages in the book are the pages with magnetic buttons that pop off. I tied and hot glued an elastic cord to the buttons that pop off so they won't get lost. Check out the photos below. 
Add the yellow fabric to shirtless Pete on one of the final pages. 
This is completely optional.  Well, I guess a lot of this is!!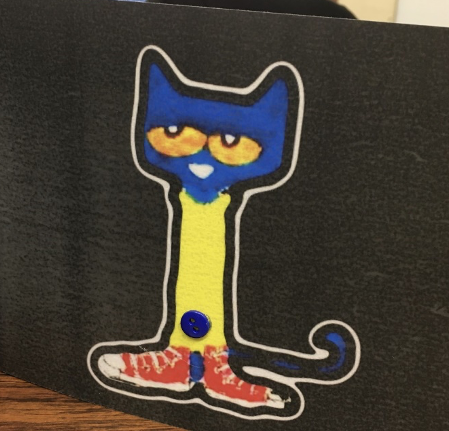 Be creative! You are welcome to change anything to suit your student. 
Enjoy the book with your student!
As I mentioned before, the slides can be edited and made into a digital book with sounds.  There are some good audio files with the author of Pete the Cat reading the story with kids.  Another variation could be to record the audio of the book on a joy player or switch and have the student hit the switch.  Someone also suggested having a yellow shirt with Velcro buttons on it for the student to use with the book.  
Hope this was a fun thing to make and break up your work week/day! I had a lot of fun with it, but did need quite some time.