With the kiddos home more for summer break, I have noticed that we were going through cups like crazy. The dishwasher was always full of dirty cups and my cupboard was empty of any clean ones. (Needless to say, it was driving me crazy. Can any of you parents relate?!)  I wanted to label the cups to help everyone keep track of their own water cup throughout the day.  Of course this needed to be accessible for everyone in the house.  I had my son Liam (8 years old, deafblind, braille reader/writer) help me with the labeling.  He was very excited and proud to assist.  
I am always looking for any excuse for him to practice writing in the summer in ways that are meaningful and fun.   It was a bonus that this activity supported his desire to be independent.  He was able to help me label the cups by brailing everyone's names and sticking them on the cups. I helped with cutting and adding the names in print with a Sharpie marker.  His little brother Finn, 5 years old, is able to recognize his name (in print) and the first letter of the name of everyone else, so the cups labels are accessible to him as well. If his little brother were not able to read yet, another option would be to use colors on the labels or a different tactile sticker for each person.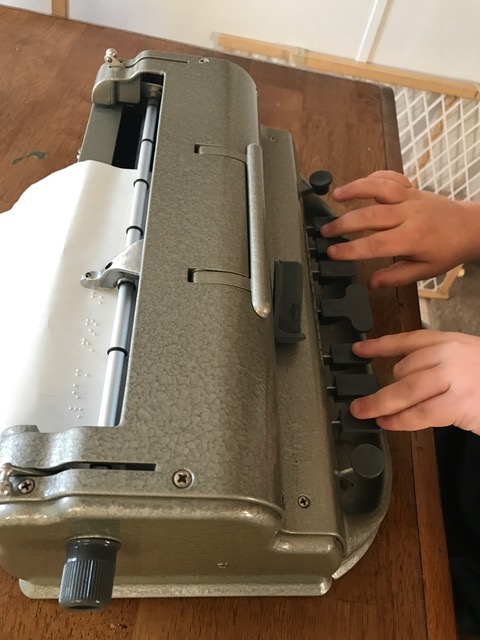 Liam passed out the cups to the correct people and filled up cups with water for anyone who wanted him to.
We have a water container in the fridge that has a small spout at his level, so he can easily get water by himself whenever he wants.    
For the labels we used Braillables-cut sheet braille labels by American Thermoform Corporation.  I like this label paper because it is easy to load, easy to 'peel-off' the back, and it comes off most surfaces very easily and sometimes can be re-used a couple of times.  (It does not come cleanly off paper or cardboard, so with paper surfaces you will want to make sure you place it in the correct place the first time).  We have used this label paper on wood surfaces, the walls of our home, doors, appliances, etc…  and it comes off nicely.  I have washed the glasses with the label on and they stay "okay" for a couple of washes.