Exploring how textures play an important role in our lives
Textures are an important part in all our lives. They can bring us comfort, calmness, discomfort, recoil, playfulness, and a coolness or warmth. The use of textures for students with a vision impairment, especially those with multiple disabilities, can be especially important
We use textures to decorate our homes and classrooms. In a student's home and learning environment, it is important to choose patterns that make them feel a sense of peace. Using textures can also help differentiate areas of the home. When a floor transitions from a rug to wood surface, this serves as a cue to a new room or area. Placing a special rug and large pillows in a reading or play area of a room can serve a few purposes such as establishing an area, keeping materials together, and creating an inviting space.
Using textures with young children helps teach fine motor skills, exploration, and learning. Matching and describing textures touches on several developmental goals.
Below are a few articles that expand on this topic
DIY texture ideas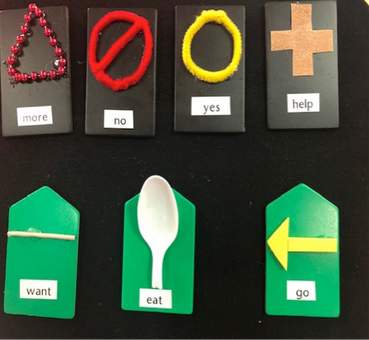 Tangible symbols: Tactile symbols come from objects that are familiar to the student. The object is familiar and holds meaning. Tactile symbols are something newly created. Through cutting down the symbol, the teacher (or guardian) is helping the student to give the tactile symbol meaning and to standardize the system. Here is an example: Using Tactile Symbols to Support Communication and the photo above is from that article.
Pre-braille skills: Using textures develops tactile discrimination for fingers
Texture Walk for Sensory Exploration: Attach different textures and fabrics to a foam puzzle floor play mat for learners to walk on with bare feet or touch with their hands
Add textures to game boards and pieces
Place texture cards throughout the environment to play orientation games
Materials and items with textures
APH 6 piece matching different textures puzzle
A board with blocks that encourages recognition of textures, identification of textures by name, and tactile matching, while reinforcing directional and positional concepts (federal quota eligible). What is federal quota?
Feel n' Peel Sheets, carousel of textures II: These colorful, tactile sheets provide a simple way to create graphs and adapt games and art projects (federal quota eligible).
Flip-over concept books: textures; One of several books in this popular APH book series that allows a young child to learn basic concepts and develop important tactile skills using an interactive, fun platform (federal quota eligible).
Touch and feel boxed set books: On the Farm, Baby Animals, At the Zoo, and Perfect Pets
Touch and feel english spanish bilingual pictures double sided sensory flash cards with fruit, objects, and animals
Give thoughtful purpose with textures
Textures create a sensory experience throughout our day. A thoughtful purpose to where we place textures for our students who have a visual impairment can create more meaning and prepare them for higher level activities that may include braille and symbol communication boards.